Institutional Analyst Inc, Thursday 8/10/2017

Beverly Hills CA, 65..77F Partly Sunny.
Chicago IL, 69..77F Mostly Cloudy.
Delray Beach FL, 81..91F  Mostly Sunny.
Port Jefferson NY, 66..78F Partly Sunny. 

================================================== 

Biotech Stock Review

1. Adding Dyadic (DYAI) $1.32, to Watch List.
2. Dyadic, Conference Call Today at 5:00 Eastern. 
3. Dicerna (DRNA) $3.36, Conference Call Today 4:30 Eastern.
4. Protea (PRGB) $0.07, Mass General and Harvard.

================================================== 
.
Subscribe here: http://eepurl.com/vHssj

================================================== 

1. Adding Dyadic (DYAI) $1.32, to Watch List.

Long Term Subscribers may remember we last covered Dyadic (DYAI) back in 2009. June 18th, to be exact. Conference call today, don't miss - we'll tell you why - below.

At the time the company was selling at $0.80.





The company came back to our attention recently when they announced that it received the final $7.4 million of a total payment of $75 million from Dupont (DD) which acquired its C1 Industrial enzyme division, leaving Dyadic to focus exclusively on its C1 Biopharmaceutical enzyme division.

The most recent balance sheet (10Q) looks like this (in thousands):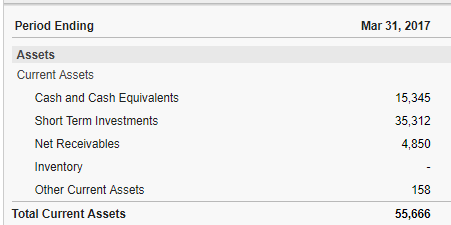 They successfully completed a share buyback program on February 15, 2017. And in addition, they acquired two separate large blocks of stock in January 2016 and in January 2017. Combined to-date, they acquired 12,364,322 shares at an average weighted price of a $1.54 for an aggregate purchase price of $18,972,828. they currently have 28,703,168 shares outstanding.

28 million shares x $1.32 = a market valuation of $37.8 million. 

(At March 31, 2017, we had $43.6 million in cash and securities. In addition, we received $4.4 million litigation settlement on April 14, 2017 that was net of expenses and legal fees, and we expect to receive approximately $7.4 million on the DuPont sale escrow on July 1, 2017)

On top of that eyebrow raising news, there has also been insider buying as reported on May 25, when the Company announced that the Chairman of the Board, Michael P. Tarnok, and its Audit Committee Chair, Jack L. Kaye, had purchased 50,000 and 35,000 shares of Dyadic International, Inc. common stock, respectively, at $1.40 per share.

That all in our opinion addresses the downside fairly well. As for the upside: the Biopharmaceutical enzyme division. 

This division has vast potential in that it may help speed up the development, production, and performance of biologic vaccines and drugs. We'll discuss this division in greater detail at a later date - adding only we believe it has XX the potential value when compared to the Industrial division - which was proven to be worth $75 million.

As with the C1 industrial enzyme, the Company will tinker with the C1 biopharmaceutical enzyme - testing out and proving up the technology internally and with major Corporations throughout the world - in what they like to call research collaborations.

What will all this lead to? In our estimation depending on the findings of the ongoing research - it will lead to the technology being licensed, purchased outright, folded into an M&A transaction or the company itself being acquired outright.

In the most recent conference call, management stated: "We are in an enviable position as we do not need any additional capital to fund our planned R&D efforts, enabling us to avoid the significant cost and distraction of an uplisting, which would otherwise be required to raise funding for our strategic scientific programs."

They additionally stated, "Our effort to monetize our technology will not be open ended. We anticipate by mid-year 2019, if not sooner, we would be in a position to determine how successful our research and business development efforts are and be in position to evaluate what are our alternatives are at that point."

So there you have it. We are going to see management today - ahead of this afternoons conference call. Ideas as attractive as this, do not come around too often,

2. Dyadic, Conference Call Today at 5:00 Eastern

TODAYS CONFERENCE CALL:

In order to participate in today's live session, please use the following dial-in numbers five to ten minutes prior to the start time:

Calling from the United States or Canada:  888-515-2235

3. Dicerna (DRNA) $3.36, Conference Call Today 4:30 Eastern.

NEW YORK, NY / ACCESSWIRE / August 10, 2017 / Dicerna Pharmaceuticals, Inc. (NASDAQ: DRNA) will be discussing their earnings results in their Q2 Earnings Call to be held on Thursday, August 10, 2017 at 4:30 PM Eastern Time.

To listen to the event live - visit https://www.investornetwork.com/company/23937.

Replay Information

The replay will be available online at https://www.investornetwork.com/company/23937.

4. Protea (PRGB) $0.07, Mass General and Harvard.

So, for a moment, let the five cent stock price and the ridiculous and undervalued $21.2 million market cap take a back seat to the reality of what Protea Bioscience is doing. From there, investors can conclude as to whether the market has not only left this emerging gem behind but has also neglected to realize the bright future that lay ahead for this emerging oncology company.

Full Article.

Institutional Analyst Inc., is an Investor Relations firm specializing in Investment Research and Investment Research Distribution. We specialize in getting (or creating) coverage for publicly traded companies. As such, is important to note that anytime we say anything about a company, it is because the company is a client of our parent company, or because we would like them to be a client of our parent company. In a nut shell, you can throw out any thoughts of us being even a little bit impartial. It just ain't gonna happen. We love everyone.

Institutional Analyst Inc (IA), Disclaimer.

We manage a number of industry specific websites including but not limited; to the Internet Stock Review, the Biotech Stock Review, the Restaurant Stock Review, Stem Cell Stock Review. Private Equity Stock Review, the Patent Stock Review, Beverage Stock Review and the National Stock Review (the Reviews).

We always clearly identify client companies and compensation received, as required by the SEC under rule 17B and each report and each newsletter hosted or distributed.

We are an independent research and investor‐relations consulting firm that publishes investment‐research reports such as on independently selected companies. While it is its intent to identify and research companies that it believes might prove to be profitable investments, IA is not liable for any investment decisions by its readers.

Nor report published by IA represent a solicitation to buy or sell the securities discussed within the report. It is strongly recommended that any purchase or sale decisions be discussed with a financial adviser or broker prior to completing any such purchase or sale decision. The information contained herein is provided as an information service only and is based upon sources deemed reliable, but not guaranteed by IA.

Past performance of previously featured companies does not guarantee the future success of any currently featured or mentioned company. The information contained herein is subject to change without notice, and IA assumes no responsibility to update the information in this or any report published. Use of this or any report published by IA may be subject to the applicable rules of certain self‐regulatory organizations and the securities mentioned herein, which are traded Over The Counter, and may not be cleared for sale in certain states.

IA and/or its employees, officers, affiliates or members of their families may have long or short positions in any of the securities discussed in this or other reports published herein (and/or options or warrants relating thereto) and may purchase and or sell these securities, options or warrants from time to time in the open market or otherwise.

IA may derive compensation through research services and subscriptions and/or investor‐relations consulting from the companies featured or mentioned in its reports. Write or call IA for disclosure details as required by Rule 17b as it relates to individual issues and contract lengths. When Institutional Analyst is paid by the management of the companies for investor‐relation services, including but not limited to the issuance of research reports (unless noted otherwise) it will be clearly noted at the bottom of each report or blog controlled by IA. IA has received $5,000 from DYAI for investor relation services to be performed and five hundred shares of Protea restricted common stock for investor relations services. Management of companies covered in IA do not approve of dissaprove of our findings, opinions and/or projections contained here or elsewhere.

We can be contacted at roland@institutionalanalyst.com

Any compensation constitutes a conflict of interest as to our ability to remain objective in our communication regarding the profiled companies. When paid in stock, our liquidation of shares may negatively affect the stock price.

In no event shall The Internet Stock Review report be liable for direct, indirect, incidental or consequential damages resulting from the use of this information. The Internet Stock Review shall be indemnified and held harmless from any actions, claims, proceedings or liabilities with respect to the information herein.